Boxee Makes AppleTV Intriguing for First Time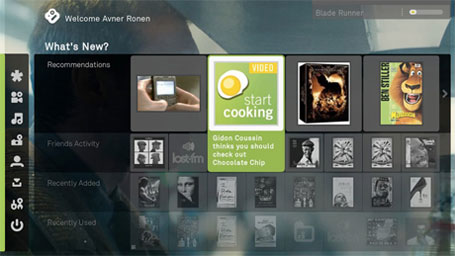 I'll be the first to admit that I am not a true videophile. We do not have a monumental HD altar dedicated to the pantheon of gods emanating from Hollywood. We have consciously downplayed the role of the television in our household to focus on more profitable, mind-challenging activity such as; conversation (how novel!), reading and game playing (physical games like cards and board games — not Wii, PS3 or Xbox). In fact, with the exception of a couple of 20″ and 24″ computer LCDs, we don't even own an HD set.

To be honest, we have been known to go on Netflix binges and start ordering only movies that star Cary Grant, or Gary Cooper or Clark Gable or Gregory Peck (of course, Peck went and spoiled that whole CG/GC leading man name paradigm), or I'll order the whole Band of Brothers series along with the documentaries on the Battle of the Bulge and others for background. My wife and daughters likewise will go on a Jane Austen or Elizabeth Gaskell or Charles Dickens BBC binge (although I've also become quite a fan), but overall, we try to keep the TV off as much as possible.
In addition to our Netflix indulgences, I have slowly started perusing the iTunes movie and TV sections more and now occasionally add interesting TV shows as well as a movie here or there. Rentals are still iffy because I have a 5G Video iPod that doesn't handle the rentals so I can only watch them on my computer. It isn't bad if I'm on the road with my laptop, but the office isn't the best place to gather the family 'round to watch a 2-hour movie. So, we've used teh iPod (I love teh the) to connect through our Costco-special TEAC stereo with video out from the iPod dock to watch on our TV. But with the lack of ability to navigate the menus on screen, coupled with TEAC's horrid remote for basic controls, it is a less-than-desirable experience but not bad enough for me to run out and buy an AppleTV.
Until reading about Boxee, I've spent little thought wondering if it would be worth it to take the AppleTV plunge. But I have to say, that for the first time, it is intriguing enough to start counting pennies toward an AppleTV. Last night, while working I saw a tweet from Arnold Kim of MacRumors fame offering invites for Boxee and wanted to look into it some more. I checked out the site and while my curiosity was piqued, it wasn't until this morning that the initial reports came out and I started looking into it a little more seriously. Wish I could have taken up on Arnold's invite offer, but I don't have an AppleTV…yet.
I think what intrigues me the most is the combination of open source, social networking, and custom channels that breaks out of Apple's controlled environment. If you want to call it a downside, Boxee is unable to play any DRM content from iTunes so you'll have to switch to Apple's interface for that, but it really opens up the world of content on demand so that you can take control over what you want to watch, when you want, and help friends with recommendations (although you can't always trust friend's recommendations — but that's another story). The whole open source aspect is encouraging in that it may open up a whole world to "hobbyist" developers to add to the platform and likewise establish the AppleTV even more as the media hub of choice for techies.
My biggest concern is if you will have the ability to filter content and craft your own UI preferences so you're not constantly visually assaulted by all the garbage (for me, but specially for the kids) that is out there even on the cover artwork (can I say how tired of seeing "Saw" covers I am?). But I guess I will have to wait until I can actually join as an alpha or beta tester — or more likely "early adopter" by the time I'm really ready to make the plunge — to be able to make realistic recommendations. But I can safely say that I am honestly "intrigued" and that is half the marketer's battle right there.
If you're looking for an invite to Boxee, in addition to applying directly to Boxee, a good place to go is this thread in the MacRumors forum.