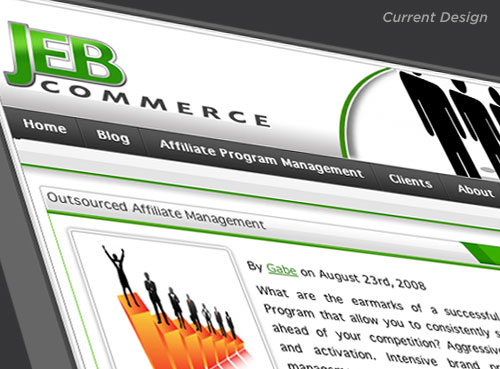 After experiencing tremendous growth and unparalleled success as a dynamic start-up in the affiliate marketing management industry, JEB Commerce – Affiliate Program Manangement realized their logo, while professional looking, was more fitting for a business in its infancy than the maturing powerhouse it was becoming and the respected leader in their industry they were aiming to attain. Even as a relatively new player, they had already amassed an impressive client list that included brands like: Elance, Ligonier Ministries, philosphy, OfficeFrog to name just a few as well as successful experience working with brands such as Dean & Deluca and Zappos.com.
After trying an online crowd-sourcing logo design solution and being less-than-impressed with the submissions, JEB Commerce decided to approach Whitestone Design Werks to come up with a design for a new logo in order to refresh and reposition their brand. What Jamie Birch, owner of JEB Commerce thought was a simple request to design a logo, turned into an education about the difference between "just a logo" and what a well-thought out and designed identity system was and how it was crucial for developing JEB Commerce's position as not just a well-respected brand but an authoritative, leading brand in their space.
For those who are keeping track of how many times my MBP has been baked and come back to life, as it stands, the official count is now four. This time, it lasted over one and a half months since the last baking session. I won't bore you with any new details other than to say, after four successful tries, I'm now committed (like I wasn't before) to baking the board for as long as it will let me do it. I'm sure that at some point, it will finally give up the ghost, but until then…
Some points to note: it now only takes me about 15 minutes to tear apart the machine (disassemble is probably a gentler way of saying that). It takes a little longer putting it back together because after spending a great deal of time trying to reconnect the only connector that connects to the underside of the board (connecting with me on this?) and then position the board at an angle so that I can get the port side (the other side) to fit through the openings in the case and allow the board to seat properly. I invariably fail to remember that I didn't connect the battery unit before I went through the convolutions necessary to seat the board. I then remove the board, affix the battery and then go through said convolutional placement of board once more. So, in all, the reassembly takes at least 10 minutes longer for me. However, I'm getting real good at it. Maybe next time, I will remember to affix the battery beforehand.
For those coming to this article for the first time, I have three other posts of the whole MacBook Pro logic board baking ordeals:
Cooking the Books (or Baking my MacBook Pro Logic Board)
Twice-Baked Mother Board (or Refried Logic of my MacBook Pro)