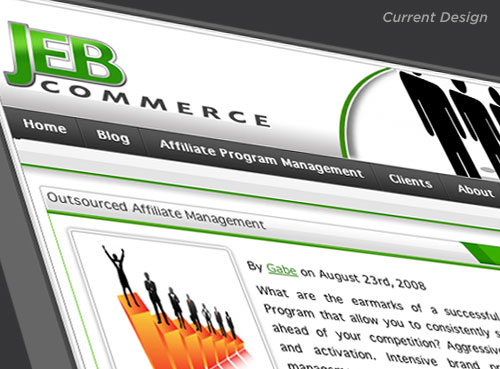 After experiencing tremendous growth and unparalleled success as a dynamic start-up in the affiliate marketing management industry, JEB Commerce – Affiliate Program Manangement realized their logo, while professional looking, was more fitting for a business in its infancy than the maturing powerhouse it was becoming and the respected leader in their industry they were aiming to attain. Even as a relatively new player, they had already amassed an impressive client list that included brands like: Elance, Ligonier Ministries, philosphy, OfficeFrog to name just a few as well as successful experience working with brands such as Dean & Deluca and Zappos.com.
After trying an online crowd-sourcing logo design solution and being less-than-impressed with the submissions, JEB Commerce decided to approach Whitestone Design Werks to come up with a design for a new logo in order to refresh and reposition their brand. What Jamie Birch, owner of JEB Commerce thought was a simple request to design a logo, turned into an education about the difference between "just a logo" and what a well-thought out and designed identity system was and how it was crucial for developing JEB Commerce's position as not just a well-respected brand but an authoritative, leading brand in their space.
Well, we've had a doozy. Just got done digging out of over 30″ of white stuff here in Coeur d'Alene. While most people aren't surprised that it snows here in North Idaho, the fact is, it doesn't usually snow this much. In fact, it never has snowed this much. At least as far back as they have been keeping weather records for the area, which is 1881. The old record of 15″ set in 1955 was trounced by almost double that amount (official Cd'A depth was pegged at 25″ but most places even within city limits got more than that).
I do have to say that the saving grace in this storm is that it was cold and the snow was light and fluffy. So, while shoveling light, fluffy snow can be a challenge in itself (think eating peas with a butter knife), it is not as hard as shoveling wet snow. And I have to give a big shout out to my neighbors who pitched in shovels, backs, snow-blowers and plow-equipped ATV's to help everyone shovel out each other's driveways. Even with all the help, I pretty much missed a whole day of work shoveling. And I work from home!
So, I'm enjoying the effects of Advil now and resting up for another storm supposed to hit on Sunday that they say will bring possibly another 4-6″ of snow. Bring it on. What's 6″? Heck, I'll take 12″! I just hope I don't have to shovel 30″ of snow in my lifetime again!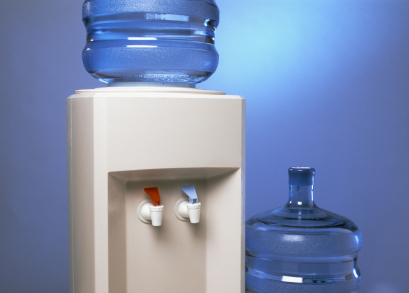 Last Friday morning I was at the Coeur d'Alene Online Marketer's Group monthly meetup at Calypso's Coffee in downtown Cd'A enjoying a remote presentation by Matthew Ray Scott on "Virtual Business" (did I get everything?), and during the presentation Matthew mentioned that while there are many benefits to being able to work from home, that he still needed a virtual water cooler environment (yes, I know that I am violating one of Matthew's recommendations to get rid of the word "virtual", but for this story it applies). I had just been thinking about that very thing yesterday and realized that my combination of IM (iChat) and Twitter (Twitterific) sort of filled that need but I was trying to put my finger on what was missing that you receive from a real water cooler environment (besides cooler water).
Read more