Trademark Infringement of Mascot Logo! Texas High School Gets Mauled by Penn State
Like many high schools with little budget and no clue as to what institutes true trademark infringement, Buna High School in Buna, Texas had been "assured" by a local sportswear vendor that using this cool cougar image would be perfect and different enough than Penn State's Nittany Lion logo that they would be safe in using it. Not sure what alternate universe this sportswear vendor was in when they were viewing the Nittany Lions' logo because it was a rip-off all the way to the same color, but I'm sure they felt some sense of protection in the relative obscurity of being a small high school in the middle of Texas (actually they're closer to the coast, northeast of Houston) that no one would notice that they were using someone else's registered trademark for their school mascot. But…someone did, and that someone notified The Collegiate Licensing Company (CLC) in Atlanta, GA, who just happens to manage the licensing of trademarked merchandise for many high-profile NCAA schools and is also charged with enforcing the protection of the trademarked Nittany Lions logo of Penn State in particular. A curt Cease and Desist letter was promptly sent to the small high school with the requirement that they immediately remove the logo from all their uniforms, paint over walls with the logo and stop using the logo for any other printed material or clothing.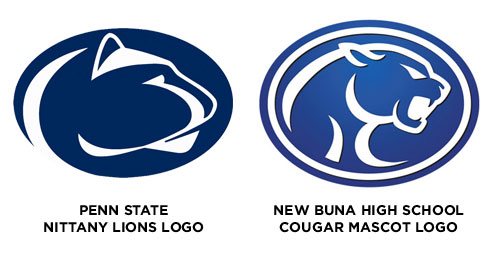 After recovering from the initial shock and revelation of being evil-doing lawbreakers without even realizing it, Buna H.S. staff was faced with a brief phase-out period and scrambled to find a replacement image for their cougar mascot logo in time to have decals printed for next seasons' helmets as well as walls and field painted and new t-shirts. Not knowing where to turn or who to trust now, they searched for the term, "cougar logo design" and started calling design firms of the more promising designs that they could find contact links for. One of those calls was to Whitestone Design Werks, and while the Buna ISD staff were initially surprised at the typical cost of producing a custom-designed logo, Russell Heistuman, the owner, (that's me) took pity on their situation and low budget requirements and with dreams of Friday Night Lights, and agreed to modify an existing design to become the new mascot logo for the Buna High School Cougars.
Well, once I got into the project, I couldn't help but take it much further than just an adaptation of an existing design (I had my own clientele to protect as well). The final design was enthusiastically received by the Buna staff, but they were still cautious about whether or not they were in compliance with the original cease and desist letter regarding the venerable Penn State logo infringement. Once CLC had reviewed the new design and even submitted it to Penn State for their approval too, they were satisfied that the new design was different enough as to not cause any confusion as to whether they were using any derivative version of the original infringed version (in other words: It was OK!).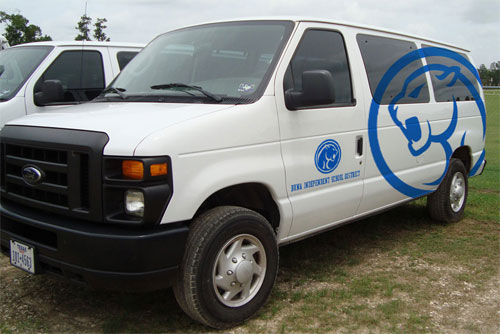 So now we're in the process of applying the design to vehicle graphics, painting on walls and applying to custom designs for shirts, sweatshirts, jackets and other items using the awesome site of Prep Sportswear. And now, Buna Independent School District is the proud owner of a mascot logo that no other school has and they are free to register it as a trademark and have for their very own…and even serve up a Cease and Desist letter of their own someday if some other upstart high school team decides to hijack their Cougar logo.