Pixar and the Reshaping of Disney Animation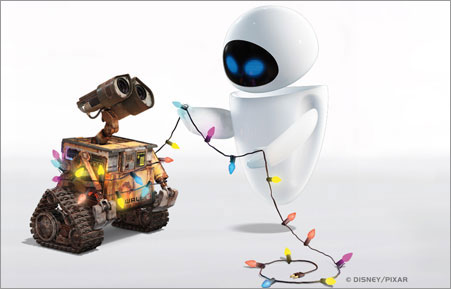 This is all old news, but thought I would still go ahead and post this as we're anxiously awaiting the release of WALL-E on DVD on November 18. Came across an inspiring article on the Hollywood Reporter's website chronicling John Lasseter's career that began at Disney after attending Cal Arts with peers Brad Bird, Tim Burton and John Musker, but came to a disappointing end after he was fired for going around a manager to pitch a project. The original 1977 release of Star Wars was an inspiration to John and so it seemed a natural for him to land at George Lucas' nascent computer animation lab, hooking up with pal Ed Catmull that he eventually sold to Steve Jobs and which most know became Pixar Studios and as we all know, was bought by Disney just last year, bringing John Lasseter back around, full circle to not only return to the fold, but to become the shepherd of the whole flock that had been wandering in the wilderness of straight-to-DVD-sequel hell.
Also, on the design end of Pixar and WALL-E in particular, in a post on The Pixar Blog back on May 12, that in turn referenced an article about the movie in Fortune. The article chronicles how Jony Ives was involved in the design of EVE (Andrew Stanton was conceptually inspired by Apple's iPod design philosophy), but being true to Apple's notoriously tight-lipped secretive policy was unable to work into the design anything that hinted at Apple's future technology–which back in 2005, most assuredly would have been the future iPhone and iPod Touch.
All that is to say, that I am looking forward to the years ahead as Disney is entering into a new golden age with some great talent at the helm that brings a totally out-of-the-box approach to animation, but at the same time, artistically and lovingly preserves the rich heritage of Disney Animation Studios and I hope will purge its reputation of the barnacles of cheap, shallow, uncreative sequel-itis. All hail John!