My MBP is Officially Hexed—But There's Hope!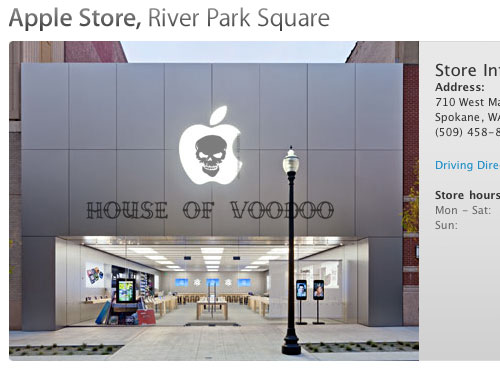 It took me awhile to get this posted. Not sure if it was the fact that I've had an incredibly busy month or that I was just tired (it is getting a little old) of posting how many times I've had to bake my MacBook Pro now—six for anyone whose counting (hence the clever "hexed" title). I'm getting more than a little self-conscious about mentioning it now, specially when you read further and find out how my n00bness has more than likely contributed to this multi-bake syndrome. I'm really only posting this for the benefit of those who will experience the same issue or similar and that they might avoid my fate—so read on.
This last time was the shortest time between bakes—just three measly weeks. The circumstance surrounding this issue was a little different than the previous times if nothing more than the coincidence of having it happen the day after I made a scheduled visit to my local Apple Store in Spokane (deliberately on Steve Jobs birthday, 2/24 hoping to take advantage of any extra reality distortion fields that might be present) to try one more time to have them test my system to see if it would produce the Nvidia error (see my first article: Cooking The Books). I have to take my hat off to the two techs (er, geniuses) that tried everything they could think of to get it to produce the Nvidia error (I'm pretty sure there were some serious voodoo incantations involved) but alas, to no avail. My system was perfectly fine, or so it would seem. I was entirely honest with them about the history of my system and told them all about my baking experiences and they seemed genuinely appreciative that I had been so forthright and seemed to go the extra mile as a result. But, the final verdict was that the system appeared to have no issues that would qualify it for the Nvidia repair policy or any other policy. In short, I was hosed if my board ever refused to come back from the dead.
They did encourage me that if I had them send my system to the main Apple Repair Center that there was a good chance that they "might" be able to replace the logic board for the minimum $310 but, that if it was determined by the tech that accidental damage had occurred like being dropped or spilling a Mountain Dew  on the keyboard (which has never happened) or the premature yellowing of all the stickers from being baked several times and slightly stripped hex screws (that has definitely happened) that I would be liable for the whole cost of replacing the board which was still $1100 at the time of their quote.
I went home disappointed but thankful my system has been able to go through its repeated resurrections and that I would wait until it died again before taking my chances and bringing my system in. Little did I know that would happen to be the very next day. Lo and behold, that very night, I closed my system just to transport it into another room and when I went to open it, it would not wake up. Now in the past when this occurred, I had gone through many troubleshooting steps which would always involve doing a hard power down by holding in the power button for several seconds. Once that had taken place, it has never recovered on its own without baking. All of the times that I had had the system looked at by Apple techs, the system had been powered down. This time though, I thought I would try to take advantage of the fact that it was still "on" but dead—hoping that there might be some forgotten voodoo chant that could be summoned that would shed light on the root cause of my system failures. I decided to leave my system on and I scheduled another Genius Bar appointment as early as possible the next morning.
Now Coeur d'Alene isn't that far from Spokane. It's only 35 miles from my door to the downtown Spokane Apple Store location but 70 miles round trip (which I used to make every day for quite a few years). But it takes about 45 minutes each way and almost a quarter of a tank of gas in my Jeep so you don't make the decision to go into Spokane if you don't have to. That said, my expectation was that I was taking advantage of this "powered-on" condition hoping it might make a difference in diagnosing the problem. However, when I finally slid my MBP onto the Genius Bar counter to have a new tech, er, genius, take a look at it, I tried to be very careful in explaining the situation of the "on condition" to which he unhesitatingly responded to by immediately powering down the system, to my dismay, to go through all the same troubleshooting techniques that I told him has already previously been done many times over. Which, predictably resulted in the same result—nothing. Now, to give the guy a break, there's probably nothing that could have been done, but I would have at least liked for him to have acknowledged and appreciated the fact that I was hoping to take any possible advantage of the "on condition" and then tell me why that wouldn't make any difference. Instead, the impression I had was that he didn't hear anything I had just said and went into robot-mode and instinctively powered the system down—doh!
Well, I turned around and drove back the 35 miles home in 45 minutes and another eighth of a tank of gas, completely disappointed. I then proceeded to bake the system for the sixth successful time. The difference this time is that on the way home, I stopped at Radio Shack and picked up a small tube of Arctic Silver 5 thermal paste. This is the one thing that I have not done on any previous baking attempt. In my defense it wasn't mentioned in some of the other articles and videos that I had used for my initial research so I didn't think that it was really necessary. As it began to dawn on me that this was probably the main culprit behind the fact that I have had to bake the system multiple times, I had resolved that the next time I would make sure to apply the step of thoroughly cleaning off the old thermal paste residue and applying the new paste.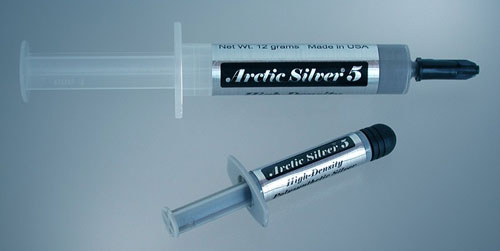 I have now had the system up and running for over a month now (so longer than last time but still aways from the four month record) so I think that the thermal paste has made the difference. There were some other complicating issues between the fifth and sixth bakes besides the voodoo visit to the Apple Store and that was that I had upgraded to OS X 10.6 Snow Leopard and swapped out my old 250GB hard drive for a new 500GB. I had noticed after upgrading to 10.6 a dramatic increase in fan usage so I am suspicious that it may have also played a role in the shorter timespan between bakes 5 and 6.
Well, now onto the "hope" part. That same afternoon after I got home and got my system back online, it just so happened that I had received an email invitation to partake in an online survey of my experience with the service of the Genius Bar…so, I told them, in a respectful and kind but lengthy response of my disappointment. That evening I received a phone call from the store manager where I reiterated in more detail my story to which he seemed genuinely motivated to try to take care of my situation and make it right. I was able to get his word that if I decided to bring my system in for repair of the logic board that he would have the store do the repair rather than sending it out to Apple's Repair Center and guaranteed that it would only cost me the $310 to replace the logic board (assuming that was the only thing wrong). While free would have been obviously better, I consider that a pretty good deal considering the original Apple Care was for $250 (which I should have paid for), I'm only out another $60 more than that. So, now the only thing is finding the time in my schedule along to take advantage of this offer. Meanwhile, my hexed system keeps on keeping on.
Hopefully the next post will only be about having the logic board successfully replaced. Although, seven is a perfect number. To be continued…