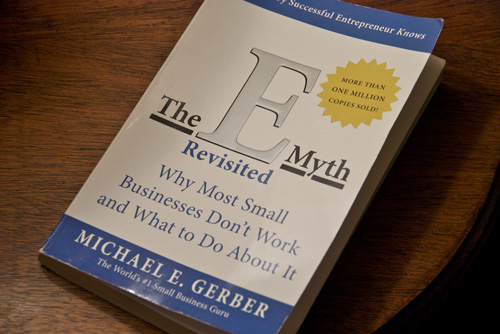 I recently had a book recommended to me by a friend that has evidently been must-reading for entrepreneurs for years called, The E-Myth Revisited, by Michael E. Gerber. I was aware of the book, but it had never been on my reading list. After my friend flat-out told me that, "You have to read this book" while simultaneously thrusting his well-worn copy into my hands I decided to take him up on his exhortation. While it has more of a Zen influence then I would like, I still found myself quite captivated with all of the business possibilities it stirred up in my mind (and heart). While there were many insightful sections that have stirred me to re-evaluate my own business model, I found myself in a bit of a frustrating quandary. For those who haven't read the book, I won't spoil too much (other than they all die in the end) by revealing that much of the business model is based upon developing a franchise-able vision for your company. My quandary was that I could not reconcile my appreciation for the franchise model which relies on developing systems that deliver quantifiable and repeatable, consistent results, with the reality of my business which at its very essence relies on uniqueness, abstract thought, subjective opinion and thinking "outside the box" as it were. How could a design business be modeled as a business that could be franchised?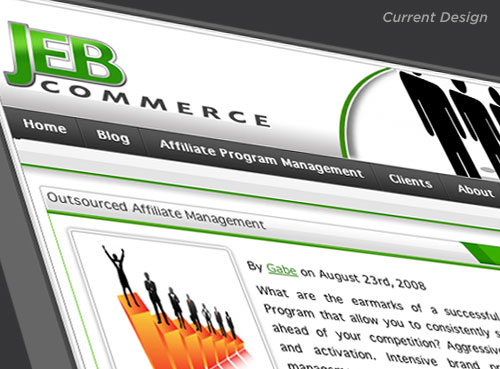 After experiencing tremendous growth and unparalleled success as a dynamic start-up in the affiliate marketing management industry, JEB Commerce – Affiliate Program Manangement realized their logo, while professional looking, was more fitting for a business in its infancy than the maturing powerhouse it was becoming and the respected leader in their industry they were aiming to attain. Even as a relatively new player, they had already amassed an impressive client list that included brands like: Elance, Ligonier Ministries, philosphy, OfficeFrog to name just a few as well as successful experience working with brands such as Dean & Deluca and Zappos.com.
After trying an online crowd-sourcing logo design solution and being less-than-impressed with the submissions, JEB Commerce decided to approach Whitestone Design Werks to come up with a design for a new logo in order to refresh and reposition their brand. What Jamie Birch, owner of JEB Commerce thought was a simple request to design a logo, turned into an education about the difference between "just a logo" and what a well-thought out and designed identity system was and how it was crucial for developing JEB Commerce's position as not just a well-respected brand but an authoritative, leading brand in their space.
Like many high schools with little budget and no clue as to what institutes true trademark infringement, Buna High School in Buna, Texas had been "assured" by a local sportswear vendor that using this cool cougar image would be perfect and different enough than Penn State's Nittany Lion logo that they would be safe in using it. Not sure what alternate universe this sportswear vendor was in when they were viewing the Nittany Lions' logo because it was a rip-off all the way to the same color, but I'm sure they felt some sense of protection in the relative obscurity of being a small high school in the middle of Texas (actually they're closer to the coast, northeast of Houston) that no one would notice that they were using someone else's registered trademark for their school mascot. But…someone did, and that someone notified The Collegiate Licensing Company (CLC) in Atlanta, GA, who just happens to manage the licensing of trademarked merchandise for many high-profile NCAA schools and is also charged with enforcing the protection of the trademarked Nittany Lions logo of Penn State in particular. A curt Cease and Desist letter was promptly sent to the small high school with the requirement that they immediately remove the logo from all their uniforms, paint over walls with the logo and stop using the logo for any other printed material or clothing.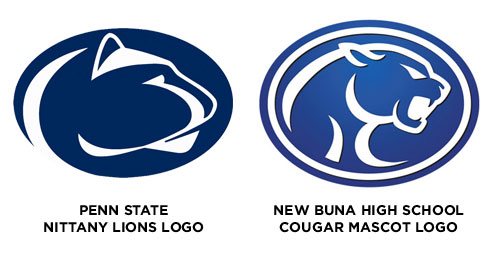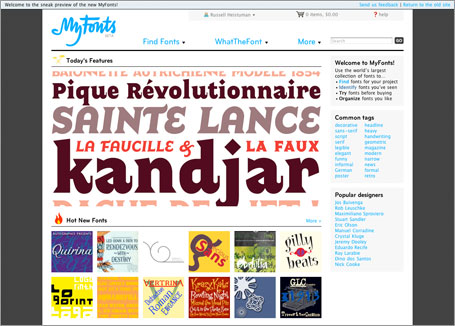 I got a pleasant surprise when I went to MyFonts.com a couple of days ago and saw the new sneak peak at the beta version redesign. What I once thought was my little secret will now be completely out of the bag. No longer will other designers be put off by the almost amateurish appearance of the old site this is replacing. MyFonts was one of those sites whose functionality more than made up for its lack of design sophistication. But I always felt if there was any site that deserved a better site design, MyFonts was it. And now it has one. And it is several orders of magnitude in both the design as well as the functionality.
I'm having to temporarily change the theme of my blog because my last theme was doing some funky wrapping in Firefox and IE when you have custom Widgets applied. Even with the latest fix, I was still having the wrapping issues. So, for now, I'm using Brian Gardner's very practical Revolution Code Blue 3.0 theme while I work on a new customized theme. I love what Brian and Jason Schuller are doing with Revolution2 and will give them some free press for little while. I'm also working on a new blog for Whitestone Design Werks that I hope to have up before the year is out as well. So, needless to say, I will be immersed.