After a lengthy hiatus from my blog and Whitestone Design Werks, I am coming out from a self-imposed quiet-period. Not that I have much in the form of anything new to say, but I will just be able to say it—whether it's worthwhile reading is still to be determined. I'll give a few details of what I've been up to the past several years just to fill in some blanks and then I'm hoping to begin sharing some experiences I've had the privilege of gaining as well as some miscellaneous projects that I'm both currently working on and am preparing to map out for some future fun adventures.
I am really trying to learn some lessons from the past about promising to write about future topics and then not following through, so I'm making no promises other than I will be writing. I will do my best to make it engaging and somewhat interesting and hopefully even beneficial.
So here is my modest "shot across the bow" and a heads up to keep a look out for future posts. As well as website design refreshes!
Trying to put into perspective…
For those of you who are geeky enough to be interested, I thought I'd share my new workstation set-up now that I've finally gotten everything somewhat in working order. For extra-credit, if you click on the Flickr-linked image above, it will take you to a page that has everything highlighted and called-out in rollovers.
See after the jump for all the glorious (or was it goriest?) details of my new system, my old system, and most of the software that I use (hence the "colophon" title)…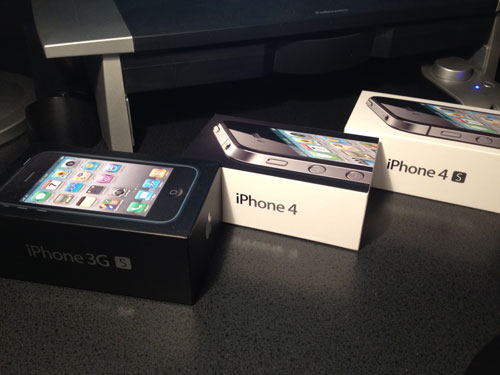 Trying out posting from the WordPress app for iOS on my new iPhone 4S. I've waited a long time for this–patiently waiting for T-Mobile to either finish getting swallowed by AT&T or actually get the blessing from Apple to be able to sell the iPhone–but to no avail. So at midnight on the date for pre-orders, along with several million other people, I did my part to help bring Apple's and AT&T's servers to their knees. After trying to order through the Apple Store with multiple failed attempts, I finally went to AT&T's site and had a tough time there as well until about the third time it finally allowed me to complete the order and violá, I was on the fortunate waiting list for the first batch of iPhone 4Ss. Evidently not as fortunate as some in Germany, but hey, at least it didn't come later.
So, I've been enjoying the transition from the old-school RAZR (don't laugh–you know they still look cool) that I've had since forever, to the new paradigm of actually having a truly smart phone.
But just to catch up on what I've missed out on over the past two or three years, I also ordered a 4 and a 3GS for the rest of the family and can now have a pretty full spectrum of experience with the iPhones that have really mattered.
One thing I can say is that I probably won't make a regular practice of posting from my iPhone, but I'm glad that I can and have enjoyed the opportunity to try it out. However, it's main drawback with the small screen real estate and lack of a real keyboard for speedier typing, make it harder to put a well-written post. Of course I have other impediments to being able to write a well-written post, but I'll be glad to use this as my main excuse for this post. Until next time..
Sent from my iPhone
Piggybacking on the "Busy is Good" post, I have continued to remain incredibly busy since the beginning of the year. I would have to say that I am not personally experiencing the downside of this recession yet and I hope that continues to hold true. I'm not one to "knock on wood" but I am also keenly aware that everything could melt-down tomorrow. But I have to say that I almost feel guilty when people ask "how's business?" with a trepidatious tone and a hanky ready to wipe up the puddle of tears that is surely ready to pour forth as I confess all the horrors of dried-up business and clients gone belly-up and all I can say is, "I've never been busier."