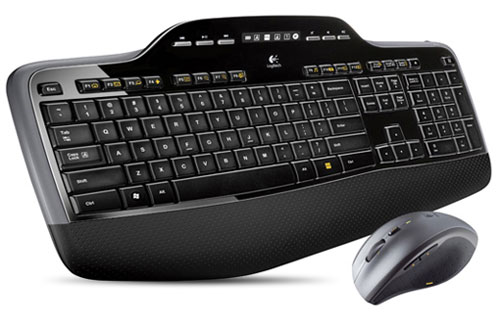 Just thought I'd post a quick little help for any of those out there that want to take advantage of a good keyboard deal but wondering if it will work on your Mac system. One little caveat before I go further, this tip is for OS X 10.6 Snow Leopard and earlier and I haven't seen how this works on OS X 10.7 Lion yet. Personally, I'm waiting a little longer to upgrade my main workstation, but that's another story.
While OS X does a pretty decent job of supporting the basic typing ability of almost any keyboard or mouse out there, there is the one nagging reality that if you have gotten into the habit of keyboard combo shortcuts, that the Command and Option key functions are basically switched and can drive you batty when you get an unexpected result from key command. To solve that, the utility that I use is a kernel extension that you can set from your System Preferences called DoubleCommand which allows you to easily and quickly remap your basic system keys that make up the main difference between Macs and Windows operating systems–notably the Command and Option keys. Basically, I only use it to swap those two keys, as you can see in the screen grab below, but you can use it set many other possible key remapping combinations as needed.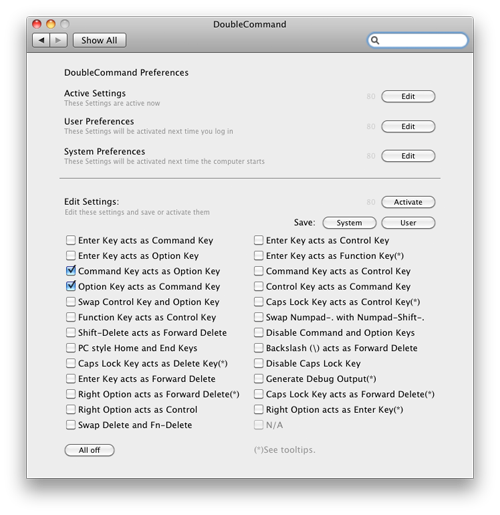 While OS X won't support all the extra bells and whistles that may have been designed into your Windows keyboard like opening up Office apps or Mail or pretty much anything else that is extra whizbang–but surprisingly, the only extra-curricular activity that I really care for my keyboard to perform besides basic typing and F key operations, are iTunes controls. Starting a song; volume control; skipping; pausing–all those functions are supported. So, if you don't mind missing all the additional functionality, than this is the tool for you. For those that want more control and need better Lion support, there is also a link to another utility, which I have NOT tried myself, called KeyRemap4MacBook that you may find more useful.
What I find ironic in all this, is actually how well Microsoft supports OS X with ALL of their keyboards and mice but Logitech seems to be dragging their feet as slowly and half-heartedly as possible in supporting Macs. This is a great tool to be able to use some of the cooler Logitech keyboards that don't support Macs with your Mac and not drive you crazy with the Command and Option keys in the wrong place.
On last thing to remember is if you are using this for a laptop environment, when you disconnect your keyboard and go to use your built-in keyboard, your keys remain remapped and now they are swapped again. You will need to launch your System Preferences and turn off the the changes you made. The good news is that the DoubleCommand allows you to save it as a preferred setting in User Preferences so that when you reboot, it will default to whichever setting you prefer. Enjoy.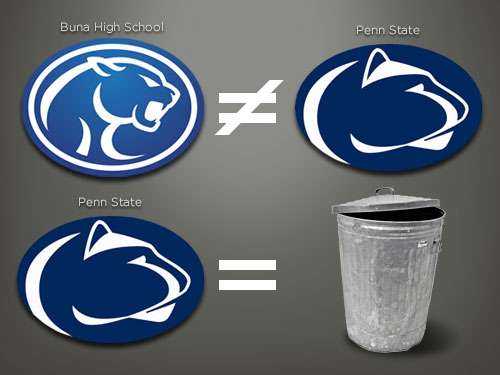 The recent scandals that are racking Penn State right now have brought up an interesting dilemma of which Buna High High School no longer has to worry about being associated with (other than this blog post and all the past hoopla over copyright infringement and cease and desists that will remain searchable on the innerwebs). Right now, I would imagine any school or athletic association involving young boys that may have been "inspired" to use the Penn State Nittany Lion logo are now (or should be) scrambling to divest themselves of any connection to this brand. Because the Penn State Nittany Lion as a brand, now represents a tarnished, dare I say, trashed brand that will invoke emotions of outrage and scandal for many years to come.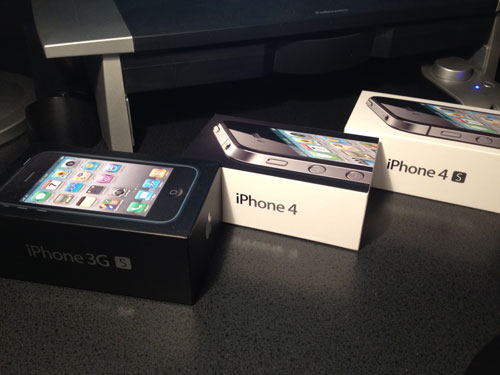 Trying out posting from the WordPress app for iOS on my new iPhone 4S. I've waited a long time for this–patiently waiting for T-Mobile to either finish getting swallowed by AT&T or actually get the blessing from Apple to be able to sell the iPhone–but to no avail. So at midnight on the date for pre-orders, along with several million other people, I did my part to help bring Apple's and AT&T's servers to their knees. After trying to order through the Apple Store with multiple failed attempts, I finally went to AT&T's site and had a tough time there as well until about the third time it finally allowed me to complete the order and violá, I was on the fortunate waiting list for the first batch of iPhone 4Ss. Evidently not as fortunate as some in Germany, but hey, at least it didn't come later.
So, I've been enjoying the transition from the old-school RAZR (don't laugh–you know they still look cool) that I've had since forever, to the new paradigm of actually having a truly smart phone.
But just to catch up on what I've missed out on over the past two or three years, I also ordered a 4 and a 3GS for the rest of the family and can now have a pretty full spectrum of experience with the iPhones that have really mattered.
One thing I can say is that I probably won't make a regular practice of posting from my iPhone, but I'm glad that I can and have enjoyed the opportunity to try it out. However, it's main drawback with the small screen real estate and lack of a real keyboard for speedier typing, make it harder to put a well-written post. Of course I have other impediments to being able to write a well-written post, but I'll be glad to use this as my main excuse for this post. Until next time..
Sent from my iPhone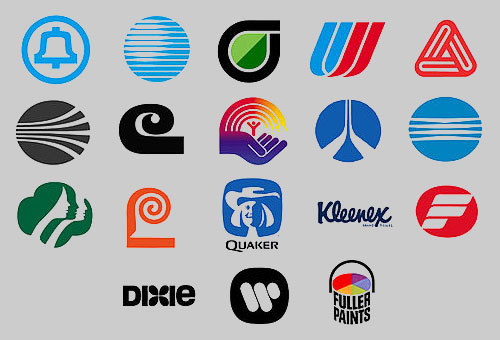 As a designer who finds much satisfaction in seeing a design I created implemented in a broad-reaching way, we (at least I do) tend to think of a successful identity design as a grasp at immortality–if even on a small scale. But the truth is, that even vaunted design systems by the masters of the craft are remapped and redrawn as time marches on and our grip on the immortal (which was an illusion to begin with) begins to slip. As eternal verities go, there is only one logo that will stand forever, and that is the Logos Himself. It is good to have a right perspective of our place in the eternal scheme of things. The best that we might hope for design-wise, is that like Saul, we might sever the silver cord before our work is re-imagined by a bunch of snot-faced little brats that are still in diapers.
This post is actually based on a comment I was going to post on a good article (if incomplete on the eulogies) called Love Thy Logo by Bill Gardner at RockPaperInk. In the article Bill offers his thoughts about the post-mortem redesigns of the iconic works of the immortal Saul Bass. Since I don't much like using Facebook-powered comment fields very much, I opted to just post in my own blog instead (which doesn't use FB comments) thank you very much.
Since I don't expect everyone who visits my blog to know who Saul Bass was, if the collection of logos above doesn't give you an idea, or if you'd like to learn more, then some good jumping-point pages to learn more about Saul and his design influence are here, here and here.
A question I see asked often is, "how many times can a logic board be baked and still be successfully revived?". One very qualified answer is "at least seven." The other question usually asked is, "for how long does the bake last?" and to answer that, "at least six months." At least that's been my experience. Hopefully, that experience will be coming to an end very shortly. You'll have to find someone else to provide you with your vicarious techniculinary fixes.
Just as I had been bragging to several people both online and off about how my system has been up and running now for "over" six months (5 days over to be exact), my system decided to not wake up this morning. Bummer. The good news is tear down and bake and rebuild went pretty quick. This time I timed it and it took me almost exactly an hour for the whole process (your time may vary), but I think that's fairly good. And no screws missing after all these tear-downs and rebuilds too!
This time however, I won't be pushing my luck anymore. After taking the "hepto-baked" MBP back to the Spokane Apple Store yet again and, yet again, failing to produce the now-coveted Nvidia error code (after I lost count how many attempts the Genius™ tried to produce it [thanks Jason!]), the best they could offer me, yet again, is the $310 repair offer that will hopefully cover anything that might happen to need replacing on my MBP. Other than the fact that it will be like it has been preserved for 3+ years and with 3-year old chip designs and technology, it will be just like having a new MBP and should (hopefully) be good for another 3-5 years.
So, I will be taking it back tomorrow to the Apple Store to submit it to the "depot". I decided to bring it back home because I'm going to remove the upgraded 500GB drive and put the original 250GB back in it for the service. Even though I have a back-up of the drive, I would have to purchase another drive to restore to–so its easier just putting the 500GB in an enclosure and working from it until I get the system back.
My main concern now, is what replacement system will I be getting. This one will most likely be handed down to my daughter and hopefully its baking days will finally be over.
Stay tuned.